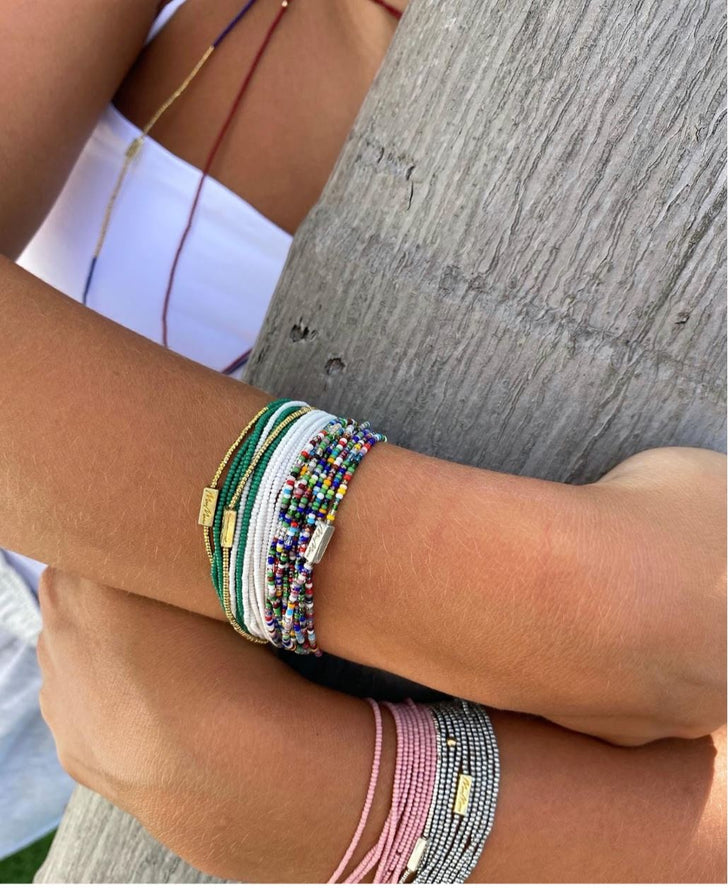 MaeMarie Intention Wraps are a new jewelry concept, from the way you wear them to the message they carry. We believed we needed to create a weightless piece allowing your intention to be the focus and not the jewelry piece itself. We have jumped through hoops in securing all of our rare European glass beads to provide you with a truly unique piece. They are becoming increasingly hard to find and rarely produced anymore. No one has had a need for these tiny gems, until we scooped them up and created the Intention Wrap. After a year of scavenging these lovely little beads, we are finally able to share them with you.
All of our MaeMarie wraps are made with quality materials to ensure they lay beautifully and comfortably on your body, while maintaining their strength to create a long-lasting impression of your desire. We use nylon cord that has enough give and strength to make it around your wrist for that last wrap. As you wear your intention wrap, you may notice a few millimeters of exposed cord, but don't worry, you'll never notice because we corresponded the color of the cord with the beads.
We can create some really incredible things in our life by being intentional. Obviously, we know it is not the wrap that creates your intentions, it is your personal desires that when focused on, create your reality. The wrap is just another tool in your toolbox. That is why we made them so beautiful so you love looking at them and enjoy the way they feel. Use your wrap as a gentle reminder to manifest those things you desire to be present in your life. MaeMarie wraps cannot be explained as much as they need to be experienced in a personal way.
"Our intentions create our reality." - Wayne Dyer
Share this